Oh My Gosh, I've been so busy posting all the cool things that I forgot to post about Sissi's Quilt! Oye!
Sissi is my 4 yr old daughter. We were surfing the quilting blogs when I came across
Little Miss Shabby's
blog. She is hosting a birdie embroidered BOM called
"Birdie Stitches."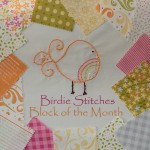 Sissi fell in LOVE with the cute lil bird. So me being the
pushover
awesome mom that I am and still needing to find a quilt that my picky lil girl would like, agreed to make this quilt for her. We then headed over to the
Fat Quarter Shop
were I proceeded to look through their jelly rolls for any collection that had lots of purple for purple princess. I showed her several ones and she
insisted on
picked Happy by Me and My Sister Designs from the Moda line.
I will say I wish I had a video camera rolling when I opened the box when the fabric arrived. Sissi took the fabric from me as soon as I tooke it out of the box. She stood in the kitchen hugging the fabric and jumping up and down. She was so excited and ready to start! A couple days later (because she spent the weekend with my parents) I unrolled the jelly roll and layed all of the fabric out and she picked out the 20 favorite strips she liked and I proceeded to create the blocks. Each of the 12 blocks are finished and ready for embroidery. Now we are just waiting on my thread to come in the mail so I can start on block #1.
(Fabric on bottom left to right: Backing, Block Centers and Boarder around the blocks, Outside Boarder, Binding.)