I was inspired by Cara Quilts call for photos of what sewing basics you have (or wish you'd known about when you started). So I tossed together my basics (on top of my current project...the postage stamp quilt I tucked away a while ago) that I keep within arms reach when I'm sewing and sent her my picture.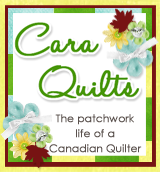 I'll try and list everything in the picture (top to bottom and left to right).
Freezer Paper - Great for tracing patterns when you don't want to cut them out (esp when you have multiple size options for clothing). You can also iron it on to the fabric so it stays put while you cut it out, easily removed with no marks, and can be reused several times.

Quilting Straight Pins - Obviously holds fabric together so you can keep the edges aligned.

Applique and Pressing Tool - Helps you hold your 1/4" seams down while ironing so you don't burn your fingers.

Curved Quilt Safety Pins - Doesn't distort your quilt "sandwich" very much so that your quilting is even.

Good Thread - I use Aurifil thread. #2000 is my multi-use patchwork/anything thread.

Fabric Pencil/Chalk/Markers - I have both Clover Chacoliner and Sewline Fabric Pencil. It's good to have a variety of colors so you have something that will show up on whatever fabric you are marking.

Needle Threader - Great to have on hand when sewing or any type of needlework.

Seam Ripper - If you're like me, you'll make mistakes while sewing and need to rip a seam out and start over. Make sure you have one that feels comfortable to use.

Band-aids - Well, again, I'll admit to my clutziness. I've had my fair share of accidents. :-)

Quilting Needles and General Needles - If you choose to hand bind, embroider, or hand quilt. It's good to have a variety of needles on hand that you think you'll need. They're small and take up little space.

Scissors - Here I have a small pair of sharp pointed embroidery scissors which are great for clipping detailed or small areas. I also have multi-layer shears, standard scissors, and pinking shears (not shown).

Rotary Cutter - I like the Olfa Ergonomic Rotary Cutter because the blade retracts when you let go of the handle and you can lock the handle so when it's squeezed the blade doesn't come out (great for when you have little ones).

Chopstix - Great for stuffing tight spots (and usually free from your local asian restaurant).

Acrylic Rulers - I have a variety of sizes: 14" 45 degree angle ruler, 4-1/2" square, a 2-1/2" x 6-1/2" rectangle, and a 4" x 36" straight edge lipped ruler (partially shown at top).

Self-healing Rotary Cutting Mats - The one on top is a new one I just splurged on. It's a 12" x 12" rotating mat. The mat on bottom that has lasted me years is a 24" x 36" mat.
Things not shown but needed just the same is patience, willingness to learn from mistakes you will make, and creativity.
For the beginner, I would also recommend getting pre-cut fabrics such as jelly rolls, charm packs, layer cakes, fat quarters, etc. Jelly rolls are strips of fabric that are 2-1/2" x 42". Charm packs are 5" squares. Layer cakes are 10" squares. Fat quarters are a quarter yard of fabric (usually around 18" x 22").
I'd also recommend starting small. I wouldn't really go any bigger than a baby quilt for your first quilt. Mug Rugs would be a fun super small project for the beginner.
Happy Sewing!