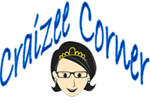 I'm guest blogging over at Sharon of
Crazee Corners
blog again this month!! I feel so honored that she let me guest blog again. So glad that I didn't mess it up last time! Well, this is Sweetwater's month. I'm going to talk about using their Sunkissed line. I really was on the fence about this fabric and hadn't really planned on buying any.
*gasp* I actually said that and am being featured, how dare I?!?!
Please trust me and keep reading!
Well, as I was saying, I wasn't going to buy any. That is until, Brie and I created Misfit Quilters and we had our first doll quilt swap (DQS). I had
Selina's
name and the colors in Sunkissed matched the colors that she likes. So, I gave in and bought a fat quarter bundle of Sunkissed. I was kinda worried I wasn't going to like it and then what was I going to use it for after I finished the doll quilt. I got my package, opened it, and was amazed by the fabric. I LOVED it!!! Wow, how could it be that I was so on the fence and decided I wasn't going to buy and now I'm in love with it? I love how the fabric also had words with definitions like grow, sprout, hope, and sunshine just to name a few.
Each of the blocks in the doll quilt was chosen because they had a meaning that went along with them. You can read those meaning in
this post
. Now all that is left is to figure out whan I'm going to use the rest of my fabric for!
Happy Sewing!