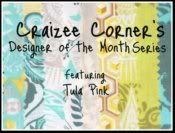 Hey everyone!!! *waves like a crazy person* I hope you all are having a great day! Thank you so much for letting me be a guest post in your new series on your blog Sharon! I'm #4 on her blog, so head over there and check out the other great people and be sure to enter her giveaway!
Wow, I don't know where to start. This is my first guest post! *squee* I started sewing back in 2006 during my husband's first deployment. I needed something to fill my "free" time and so I dusted off my sewing machine that I've had for a while. Pulled out the manual and taught myself how to thread it and everything. I then grabbed a couple quilting magazines and started sewing. I haven't looked back since!!! Three kids (I had already had our first son when I started sewing) and 4 years later I'm still addicted! So far I've only made small quilts (baby and wall hangings for others) and I have a few larger quilts in various stages of completion. That's not what you're here for though. Show me the Prince Charming!!!!!
I used the Sea Turtle and children playing fabric from the Honey collection for the bodice.
I used the froggie fabric from the Indigo collection for my skirt.
And this pattern
Well, I figured since so many others would be entering quilt (which are awesome), I wanted to be a little diferent and showcase TulaPink's fabric in another way. I already had everything to make a dress that I've been wanting to make. I used
Sisboom's Meghan Peasant pattern
. This was a super simple dress to make (no zippers!). I really had so much fun playing with my fabric. I am so in love with this fabric. I have leftover fabric so I plan to use it to make several different projects. So stay tuned to see what I make with it.
Several of the seams are 3/8 or 5/8th of an inch seams. I wanted to throw out a new tip I came across. If you don't have a seam guide or a good line to measure your seams, I had always thought about masking tape as a guide. I came across this today on Pinterest and wanted to share it. You can use different colored rubber bands for your different measurements. Especially great if you have several different seams to sew.
So without further ado, here is the finished dress.
Front
Back