Hello Lovlies,
I am going to blogging again in March. There are several things that will be happening that I can't wait for.
1) I will be doing a March Picture of the day that
FatMumSlim
has created. I missed out on February's Pic of the Day. So here is the list for March's challenge: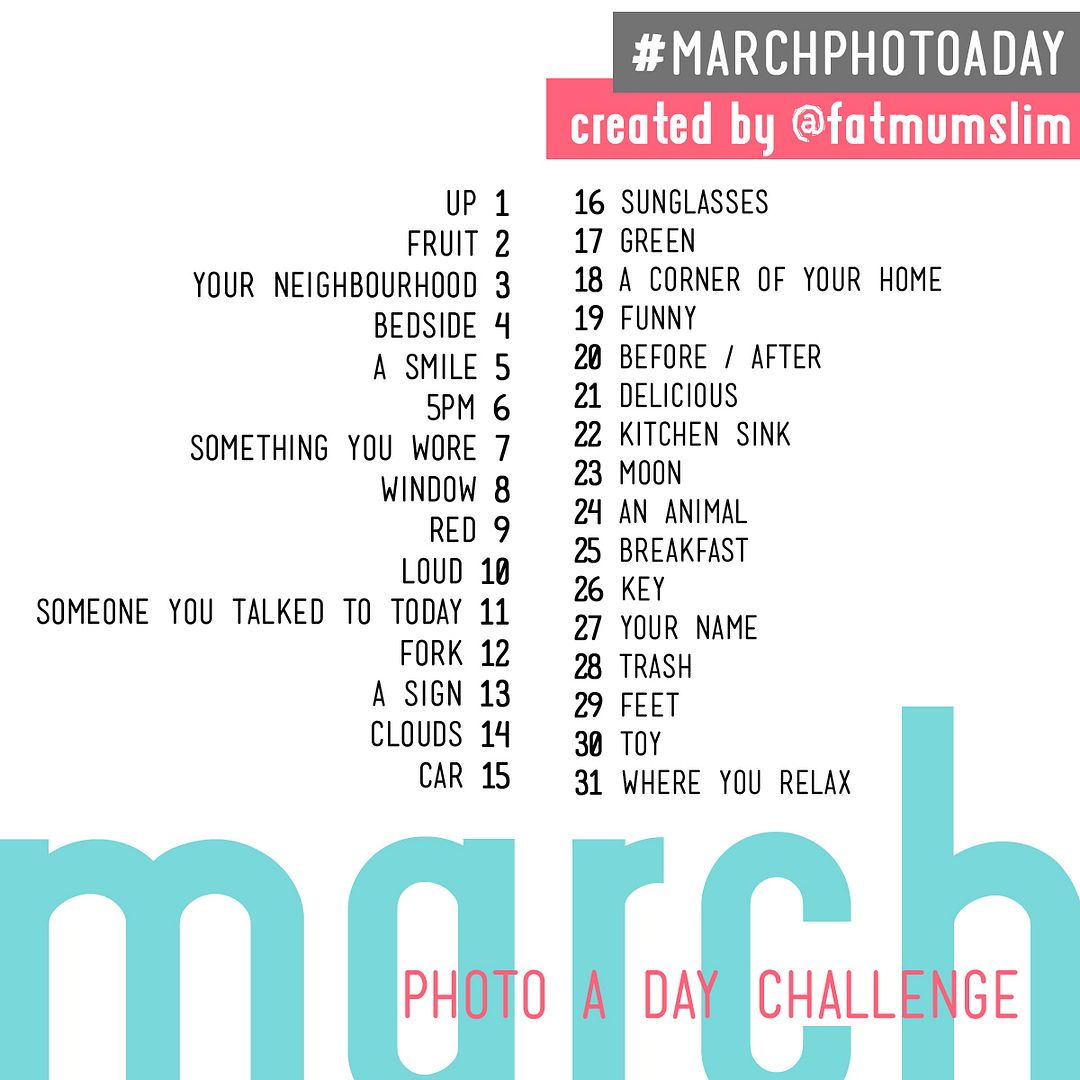 2) Project Lunch Box. It is a 30 day challenge to provide healthy, whole food lunches for your family.
Copied from her website:
Why Project Lunch Box?

Real, unprocessed foods are best for our physical and mental health.
If we help guide what our children eat while away from home, there is a better guarantee for school success, overall happiness and health.
It costs less to pack lunch at home. With tighter budgets these days it makes sense to bring your own lunch.
We want our children and loved ones to thrive. Home cooked meals are best (unless your school or work cafeteria has embraced a real food meal plan)

Together let's Take a Pledge to get it right…..

I understand that I can help decide what my family eats. #projectlunchbox reinforces that decision.
Made a decision to provide meals with Real Whole Food ingredients as often as possible
My goal is to provide nourishing meals for my family, even when they are away from home. (work, school, camp, etc.)
I will include healthy snacks to keep nourished & strong throughout the day
I will use re-usable containers and lunch boxes to reduce waste and care for the environment.
I will spread the word with our school, friends and loved ones about Project Lunch Box.
I will encourage positive, mindful food behaviors including portion control & taking the time to sit and enjoy a meal.
One box. One Meal at a Time. Each day provides a new window of opportunity to get it right.
Even if I do not pack lunches for kids I support the mission to feed healthy food to those I care for.
Be sure to check out her website for more information and recipes. She has also pinned a lot of good recipes on pinterest.
3) I plan to get back into sewing. (This will be in a seperate post.)